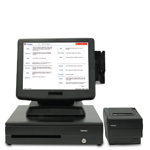 POS Value Exchange: Restaurant Solution
Streamline your retail business for greater improve productivity and profitability.
Manage all aspects of your restaurant business with a comprehensive, cost-effective system that offers you an all-in-one point-of-sale solution to turn your tables faster. The Merchant Processors POS Value Exchange(TM) Restaurant Solution, an all-in-one point-of-sale (POS) computer system, helps small to mid-sized restaurant owners improve productivity and increase profitability.
Download a PDFof our Restaurant Point of Sale System.