Pay At The Table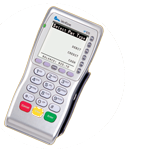 VeriFone Vx670
The Vx 670 is one of the smallest all-in-one wireless handheld payment device available. This terminal is also PCI PED approved and is both sleek and secure. The largest user interface comes in the smallest form in this rugged device that is designed for real world usage.
Features:
Breakthrough design makes this the smallest purpose-built wireless payment device ever
Tailored to restaurants, bars, stadiums and for table-side or delivery operations
Innovative ergonomics mean exceptional performance and functionality
Built-in security protections guard against fraud and misuse
Opens new markets from services to outside vendors
Download PDF of the VX670 Terminal.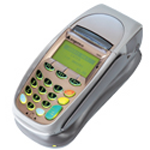 Ingenico i7780
The i7780 is the ideal Pay@Table solution. Seven Ingenico i7780 terminals can opperate at once using only one common communication base. The i7780 is a high-speed enabled portable transaction terminal capable of serving a coverage range of up to 100,000 sq. ft.
Features:
Fast transaction acceptance with a 12 lines per second thermal printer, high speed modem, powerful 32-bit processor and Ethernet communications
Magnetic stripe reader with an extended read path
Large, bright backlit display
Fast and secure wireless transaction transmission to the base with a range of over 656 feet
Compact and durable handset can be handed to the customer to complete a transaction
Bluetooth technology provides a fast, secure and proven radio link
Removable and intelligent Lithium Ion battery pack is easy to change, fast to charge and provides long-term use between charges
Download PDF of the I7780 Terminal.