Hypercom Credit Card Terminals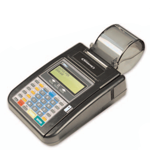 Hypercom 1 MB T7Plus
Hypercom 1MB T7Plus offers industry-specific applications, for restaurants, retail and supermarkets and builds on the reliability of the whole T7 family of terminals. This is one of the most affordable multi-payment terminals on the market.
Features:
Optional DCC service
One-touch functionality for a wide range of transactions
Drop-in paper loading
Faster printing
Compatibility with Hypercom® S9 and S9C PIN pads
Integrated thermal printer
1 MB of storage
Special industry-specific applications
Advanced fraud/identity theft protection tools
Feature-rich terminal with small footprint
Download PDF of the T7 Terminal.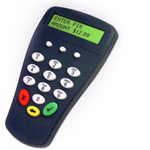 Download PDF of the T7 Terminal.
Hypercom P1300 PinPad
The Hypercom P1300 PCI- approved PIN entry device is designed to meet the PCI PED security standards for PIN entry and provides merchants with a low cost migration to newly imposed security guidelines. Electronic cash register machines can be rapidly integrated.
Features:
Low-cost PCI PED approved PIN entry device
Triple DES-certified for DUKPT
2×16 alphanumeric LCD display
Intuitive user interface with color-coded Cancel, Clear and Enter keys
Screen-addressable function keys provide more control for users
Multiple communication options for connecting to existing POS equipment
Plug-and-play software for use with current Hypercom terminals
Compatible with Hypercom Key Loading and Management (HKLM) system
Small, ergonomic design fits comfortably in customers' hands
Download PDF of the P1300 Pin Pad.