Mobile Payment Devices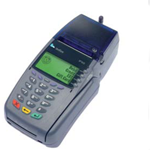 VeriFoneVx680
VeriFone's RoHS-compliant Vx 680 is the latest in wireless credit card terminals. This terminal provides a wireless solution that delivers blazing performance, high-end functionality, and exceptional ease of use, without tying customers to a fixed location.
Features:
Lets merchants extend the POS and transactions anywhere, any time
Opens new markets from services to outside vendors
EMV compliant and Contactless for Iphone, Android, Mobile Payments
Ease of use and familiar software speed implementation and reduce costs
PCI PED approved and offers end-to- using SSL and other protections
Handles even the most complex mag-stripe or smart card transactions
Compatible with latest in wireless technologies, including GPRS, CDMA and Wi-Fi
Powered by a 32-bit processor
Download PDF of the VX680 Terminal.