VeriFone Credit Card Terminals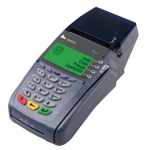 VeriFone Vx510LE
The VeriFone Vx510LE offers the latest, security and reliability advances for your business. It's optional GPRS broadband connectivity, efficient processing, realiable security processing and high-speed thermal printer are just a few highlights.
Features:
Intuitive interface
Integrated thermal printer that has trouble-free, drop-in paper loading and built-in PIN pad
Lightweight, ergonomic easily handed to customers for PIN entry
Superior performance for faster transaction processing, including EMV smart card
Choice of dial, Ethernet, or wireless connectivity wherever merchants have a power source
Multiple payment and value-added applications
PCI PED approved, advanced security including SSL
Download PDF of the VX510LE Terminal.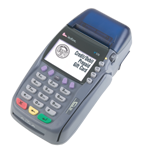 VeriFone Vx570
The Vx 570 countertop solution takes performance to the next power by combining superior speed and power for quick and reliable payment processing with increased memory to support multiple value-added applications.
Features:
Unrivaled speed and performance
Exceptional communications flexibility dial and IP-based
Unsurpassed dependability and security
Enhanced memory for larger, more complex value-added applications and EMV smart card transactions
Download PDF of the VX570 Terminal.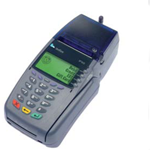 VeriFone Vx610
VeriFone's RoHS-compliant Vx 610 is the latest in wireless credit card terminals. This terminal provides a wireless solution that delivers blazing performance, high-end functionality, and exceptional ease of use, without tying customers to a fixed location.
Features:
Lets merchants extend the POS and transactions anywhere, any time
Opens new markets from services to outside vendors
Ease of use and familiar software speed implementation and reduce costs
PCI PED approved and offers end-to- using SSL and other protections
Handles even the most complex mag-stripe or smart card transactions
Compatible with latest in wireless technologies, including GPRS, CDMA and Wi-Fi
Powered by a 32-bit processor
Download PDF of the VX610 Terminal.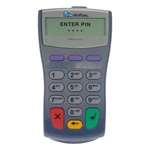 PinPad 1000se
VeriFone's best-selling, PINpad 1000SE features a revamped ergonomic design and ofers even more versatile solutions for a variety of payment environments. This is the perfect solution for merchants looking to benefit from the rapid growth in debit card transactions.
Features:
Complete backwards PED approved versions
Overall improved enhanced ergonomics
Easy connectivity POS devices or ECRs as well as a choice of USB or serial connectivity
Uses built-in contactless technology for payments as well as secure PIN-based transactions
Compatible with latest in wireless technologies, including GPRS, CDMA and Wi-Fi
Download PDF of the PinPad 1000SE.